Regupol Acoustic Flooring Materials

Regupol and CMS Danskin, a Winning Combination
An internationally renowned brand of acoustic insulation and anti-vibration materials with a 30-year pedigree, the Regupol name is practically synonymous with acoustic flooring solutions.
CMS Danskin Acoustics is the exclusive home of Regupol in the United Kingdom.
Working closely with the Regupol team for many years, we have developed, tested and promoted a comprehensive range of acoustic flooring products aimed specifically at the UK market. Our Regupol  acoustic products are designed to meet (and often exceed) the demands of the UK's various regulations, including Part E, BB93 (now the Acoustic Performance Standards for the Priority Schools Building Programme) and even the Anti-social Behaviour Act 2003. We have developed products that support both PCT and Robust Detail routes to compliance.
The CMS Danskin Range of Regupol Acoustic Flooring Products
Our Regupol range includes under screed acoustic insulation and resilient acoustic floor coverings.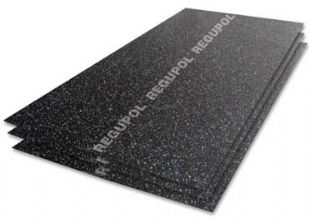 Our Under Screed Acoustic Insulation Products:
Our Resilient Acoustic Floor Coverings:
About Regupol
Originally, Regupol was a combination of rubber granules or fibres and polyurethane binders. Meanwhile, many other elastic materials are processed in hundreds of Regupol types that have been developed over the years for BSW's own products or on behalf of customers. Surface refinements and laminated solutions result in even more product variations for many different purposes and applications.
Regupol is a permanently elastic material and can be supplied in rolls, sheets or moulded parts. Regupol is suitable for all applications which require attenuation of impact sound and vibration, durability and resistance to mechanical loads. Regupol can be used for a wide variety of sports surfaces, floor covering, impact protection, sheets and tiles for building protection and for impact sound protection, materials for vibration technology and anti-slip mats for securing loads. Regupol can be used for a large variety of applications, it is long-lasting, resilient and can be recycled.
Regupol Material Properties
Regupol is produced in hundreds of formulations, referring not only to the choice of basic materials and binders but also to bulk density, further processing and other additives. Customised development of Regupol variations can be focused on various material properties: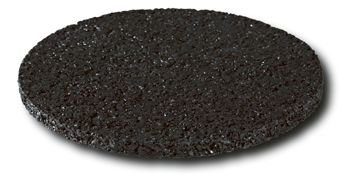 Material density
Elasticity
Stiffness
Jounce
Force reduction
Compression set module
Compression hardness
Shock absorption
Impact resistance
Tensile strength
Dimensional stability
Abrasion resistance
Elongation at break
Tear propagation resistance
Dimensioning
Shaping
Colouring
Lamination
Surface profiling
Compression set
Static permanent load
Load peaks
Reaction to fire
Water resistance
Water permeability
UV resistance
Air permeability
Thermal conductivity
Antimicrobial properties
Chemical resistance
Impact sound improvement coefficient
Vibration technology parameters
Typical Regupol Applications
Floor covering, impact sound insulating layers in flooring constructions
Floor covering for outdoor applications, impact protection flooring and elastic components
Vibration insulation, impact sound insulation, shock absorption
Building protection mats, vegetation control, etc.
Protection against point and surface loads
Regupol acoustic flooring products have been used in a significant number of prestigious construction projects, including:
Three Quays
De Vere Gardens
Prime Place
Approved Document E – Resistance to the passage of sound
The products above are highly effective at ensuring compliance with Part E of the Building Regulations. In brief, these regulations cover.
Floors and walls between domestic buildings should have a certain resistance to the passage of sound.
Sound insulation requirements also apply to floors and certain walls within individual dwellings and new schools.
You can download the regulations in PDF format here: http://www.planningportal.gov.uk/buildingregulations/approveddocuments/parte/approved
Part E has also been effected by 2013 amendments to Approved Documents. With regard to part E, these amendments primarily relate to materials and workmanship. We've provided a summary below but it is strongly recommended that you view the full document at http://www.planningportal.gov.uk/buildingregulations/approveddocuments/parte/approved.
Amendments to Approved Documents: Materials and Workmanship
Any building work which is subject to the requirements imposed by Schedule 1 to the Building Regulations shall be carried out in accordance with regulation 7. Guidance on meeting these requirements on materials and workmanship is contained in Approved Document 7.
Building Regulations are made for specific purposes, primarily the health and safety, welfare and convenience of people and for energy conservation. Standards and other technical specifications may provide relevant guidance to the extent that they relate to these considerations. However, they may also address other aspects of performance or matters which, although they relate to health and safety etc., are not covered by the Building Regulations
When an Approved Document makes reference to a named standard, the relevant version of the standard to which it refers is the one listed at the end of the publication. However, if this version has been revised or updated by the issuing standards body, the new version may be used as a source of guidance provided it continues to address the relevant requirements of the Regulations.'