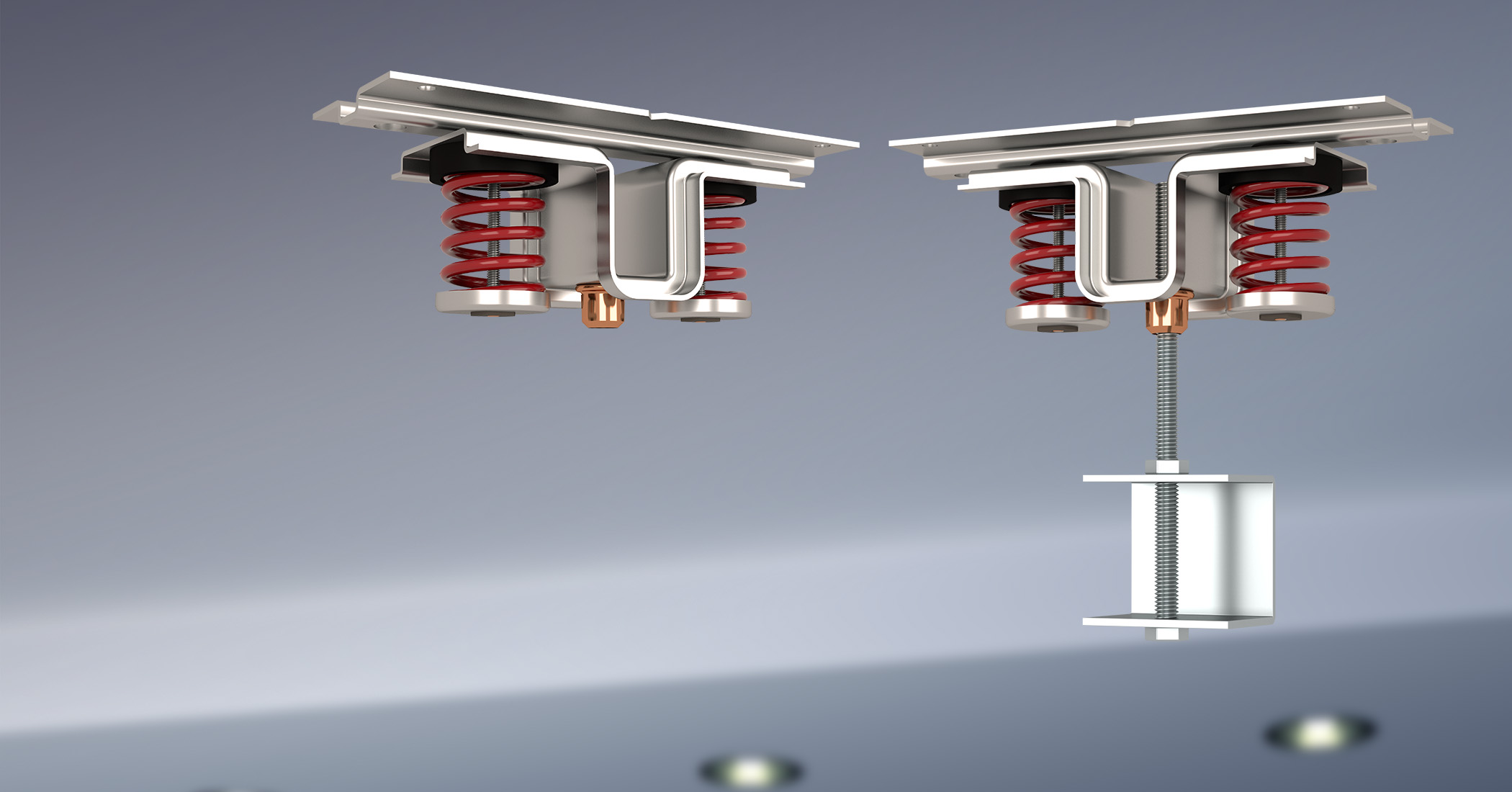 KSCH - Low Profile Deck-Suspended Ceiling Hanger
KSCH remains the most versatile spring hanger available for ceiling isolation applications. Consider this scenario: A low-profile ceiling is required only for a portion of the room – no need to use another type of spring hanger, KSCH is readily adaptable with a 3/8-inch leveling bolt and channel clip assembly. Easily suspend a ceiling at a lower elevation, create soffits, or suspend an elegant tray eiling with indirect lighting. One ceiling hanger, easily adaptable for your particular design requirements.
And this hanger is offered with two mounting plates – one plate can slide through most Unistrut® so you can span extra wide duct and properly support the ceiling grid; another, wider plate can be "shot" easily with a powder actuated fastener. That wider plate is useful whenever seismic concerns must be addressed, too. The holes in the wide mounting plate accommodate seismic-rated pins. Quick and simple to install.
There are plenty more challenges when it comes to isolating ceilings for noise control. MEP and other equipment may need to be suspended with the ceiling system, different deck elevations might be encountered, and noise control solutions sometimes need to be shimmied into tight spaces. KSCH offers unprecedented flexibility for isolated ceiling design. A single hanger design can be adapted to any isolated ceiling project, even integrated with traditional one-inch spring deflection hangers like ICC or Gotham.
One-inch (1″) deflection spring performance in a narrow 3 1/2″ airspace.
Hanger configurations easily adapt to different deck heights and ceiling design requirements.
Two mounting brackets for fast installation either shot to the deck or slid through Unistrut®.
Capable of accepting 3/8-inch threaded rod below the channel bracket making it easy to suspend MEP, cable trays, and similar items below the ceiling.
Is floor-to-ceiling height at a premium in your client's C-suite offices, but you need to design a spring hanger ceiling to mitigate noise and vibration from potentially loud equipment in a mechanical equipment penthouse? Kinetics KSCH, our innovative, super-compact spring hanger product solution for isolated ceiling construction lets you create an isolated ceiling without losing much room height. Patent No. 7,028,432 B2