Enhanced SuperPhon Range Delivers Choice of High Impact Systems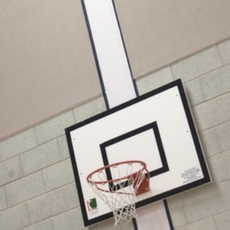 CMS Danskin Acoustics, one of the UK's leading manufacturers of specialist acoustic products, has enhanced its SuperPhon range of reverberation control solutions to include a patented (GB2550373A) sound absorbing impact resistant laminate in a choice of high impact systems. SuperPhon High Impact wall panels provide an attractive solution where aesthetics are a design priority, while SuperPhon Active delivers access to an impact resistant yet affordable specification.
The patented construction incorporates advanced micro swirl air cells within the SuperPhon panels which provide superior levels of sound absorption. Significantly enhancing sound absorption, particularly at the low end of the frequency spectrum, this reduces the total panel area required to achieve a specified level of reverberation control, as compared with standard absorptive solutions.
The impact performance of SuperPhon High Impact and SuperPhon Active has been tested by the UKAS accredited CST Global Centre for Sports Technology and certified to BS EN 13964 for Classes A, B and C. This makes the SuperPhon range an ideal specification for sports halls and gymnasiums which are designed for multi-purpose use, including activities such as hockey and football.
Paul Absolon, Technical Director at CMS Danskin Acoustics, explains: "Controlling reverberation in high impact areas has long been a challenge, as the panel composition needs to offer equal levels of absorption and impact resistance – these can often be conflicting requirements. We've invested heavily in research and development and through our technical innovation and experience, succeeded in designing a unique absorptive panel which addresses this challenge. The recently awarded patent is recognition of our technical development achievements and is already being welcomed by the specifier community."
Where aesthetics are a high priority, the fully bespoke SuperPhon High Impact is manufactured to order and finished with acoustic woven fabric to the front face and edges. This seamless design gives specifiers flexibility and facilitates the creation of environments which are either visually striking or blend with interior aesthetics.
Available in 25mm, 40mm and 50mm thicknesses and a maximum panel size of 3000 x 1200mm, SuperPhon High Impact can achieve up to Class "A" acoustic absorption. The panels are installed either direct to wall or with a 25/50mm air gap formed on-site, determined by the performance which must be achieved.
For projects driven more by budget than aesthetics, SuperPhon Active is an affordable high impact and Class "A" acoustic absorptive panel system. SuperPhon Active is quick and easy to install and comprises of sound absorbent, non-combustible glass fibre board with an impact resistant front faced final fabric finish. Manufactured to a standard size of 40mm thick and 2300mm x 1200mm, the panels are cut to fit the project on-site and then framed in a powder coated aluminium channel and grid.
Paul concludes: "We recognise that specifiers require flexibility in design but that budgets may be constrained, that's why we've made the patented sound absorbing impact resistant laminate available for use in a choice of systems. Where a fully bespoke solution is required, SuperPhon High Impact is the ideal specification, whereas those projects which only require a standard option can balance impact and absorption performance with SuperPhon Active."
Two standard fabric coverings giving 77 colour choices are available within the SuperPhon range, providing Class "1" fire performance, with Class "0" available on request. Acoustic, impact and flammability test data are available on request. For further information on SuperPhon High Impact or SuperPhon Active, call Warrington 01925 577711 or, for Scotland enquiries, Wishaw 01698 356000.