SuperPhon Suspended Absorbers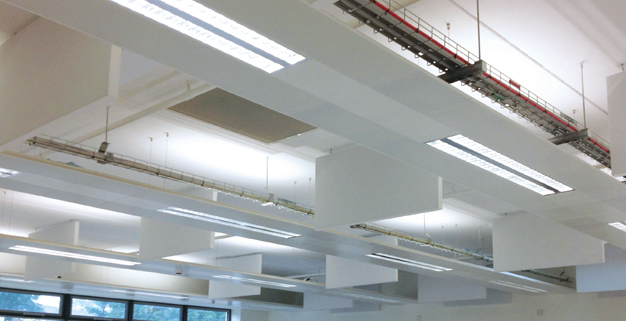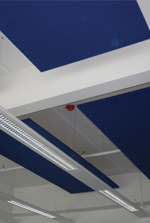 SuperPhon Suspended Absorbers – Baffles/Rafts
SuperPhon Baffles and Rafts are available in standard sizes and thicknesses, and bespoke panels and absorbers of a specific size, thickness, shape or fabric facing can be readily manufactured. As well as the broad offering of standard fabric colours, panels can be colour matched to any chosen fabric.
Benefits
Provides up to Class 'A' performance

Anti-static qualities
88 colours available over two ranges
Wipe clean finish available
Bespoke manufacture
Complete range of fixing systems
Full technical and on-site support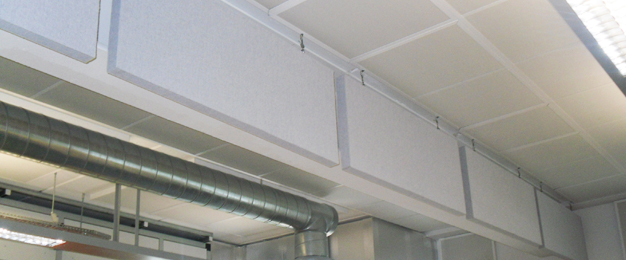 Application
• SuperPhon High Impact Panels
• SuperPhon Suspended Ceiling Panels
• SuperPhon Baffles
• SuperPhon Wall Panels
• Supply your own high resolution images or let us create the artwork for you
• Up to Class 'A' acoustic performance

SuperPhon Technical Specification
Superphon Suspended Absorbers - Baffles/Rafts
Thickness
25mm and 50mm. Other thicknesses available on request
Max Panel Size
3000 x 1200mm subject to fabric limitations
Standard Size - Vertical Baffles
1200mm x 300mm
1200mm x 450mm
1200mm x 600mm
1800mm x 300mm
1800mm x 450mm
1800mm x 600mm
Horizontal Baffles
Sizes as required
Weights
3.25kg/m2 for 25mm panel
5.00kg/m2 for 50mm panel
*Other sizes available on request
Hz

125

250

500

1000

2000

4000

NCR

Absorption Class

25mm

0.18

0.55

1.13

1.10

1.05

1.02

0.95

B

50mm

0.41

1.02

1.15

1.10

1.03

1.00

1.10

A

*Calculated to EN ISO 11654:1997 - data shown is for a horizontally suspended absorber with a 50mm airspace, increased spaces above will give further improved performance.
The information provided here is, to the best of our knowledge, accurate at the time of going to press. However, due to CMS Danskin's commitment to a policy of continuous development, we reserve the right to make changes when necessary and without prior notification. We can't accept responsibility for products that are not installed or used in accordance with our specifications and instructions.
Fixing Baffles Direct From Ceiling
The channel is mechanically fixed directly into the soffit (appropriate fixings supplied by others) and the baffles inserted. A drill should then be pushed through the steel channel, the baffle and the other side of the steel channel. Insert the nylon bolt and apply the cap to the other end. Tighten the cap thus slightly compressing the steel channel to secure the panel.
• Often installers make up the channel baffles on a work bench for ease of drilling and then separate the elements for actual installation.
Installation of Baffles on Spiral Anchors
Standard baffle sizes should have two spiral anchors that should be inserted into the edge of the baffle allowing an equal distance from either edge of the baffle. Larger nonstandard baffles may require three or four fixing points.
Contact CMS Danskin technical for advice.
Baffles will either be completely frameless or will have one edge where a frame is omitted to allow the spiral anchors to be wound in.
Wind the spiral anchor in so that the full extent of the spiral is embedded into the baffle thus the only part of the fixing exposed is the loop for attaching the ceiling suspension wire.
• Ceiling wire should be 2mm diameter standard suspended
• ceiling suspension wire allowing height adjustment and attached to the soffit with suitable fixings. Wire and soffit fixings supplied by others.
• Spiral anchors are available in two different sizes to fit the 25mm and 50mm baffle panels.

Guidelines for fixings

| | | |
| --- | --- | --- |
| Length of vertical baffle | Number of fixings | Distance in from each end |
| 1200mm | 2 | 150 - 300mm |
| 1500mm | 2 | 300 - 450mm |
| 1800mm | 2 | 300 - 450mm |
| 2000mm | 3 | 300 - 450mm plus 1 centrally positioned |
| 2400mm | 4 | 300 - 450mm plus 2 equally spaced between |
| 2700mm | 4 | 300 - 450mm plus 2 equally spaced between |
| 3000mm | 5 | 300 - 450mm plus 3 equally spaced between |
Click the Installation Guide  to download: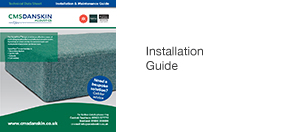 Refurbishment & Noisy Neighbours