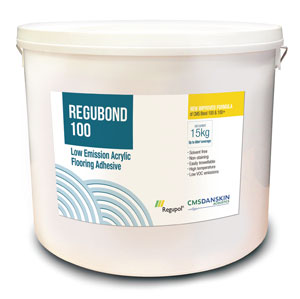 CMS Danskin Acoustics has launched Regupol® Regubond 100 as a specially formulated adhesive solution for the Regupol® 4515 and 3912 ranges of acoustic underlayments, in a move that will provide flooring contractors with access to a manufacturer backed flooring system.
As a solvent free, water-borne synthetic polymer-based adhesive, Regupol® Regubond 100 is formulated in a ready to use blue paste. Characterised by a fast and strong initial grab and rapid set, Regupol Regubond provides a rigid and cohesive film which gives floor coverings a very good dimensional stability and helps to prevent open joints.
Commenting on drivers behind the launch of the product, Neil Clifford, Sales Director, CMS Danskin Acoustics, said: "Using the right adhesive in combination with acoustic underlayments and various floor finishes is a key component in ensuring compatibility and performance. By bringing Regupol® Regubond 100 to market, it gives contractors the peace of mind that this can be used with confidence with our Regupol® 4515 and 3912 materials.
"Importantly, where Regupol® Regubond 100 is used with our Regupol® acoustic underlayments, additional peace of mind is ensured through our manufacturer backed guarantee – we'll be treating such an installation as a complete system."
For further information on Regupol® Regubond, click here.