Teeside University
Sound-absorbing 'trees' installed at Teesside University Library
Teesside University's Middlesbrough campus has benefited from over £270 million of investment in recent years, including a £6 million refurbishment programme for the university library. The library's first floor was the second phase of the refurbishment, opened on 7 October 2016, and includes a unique and visually striking installation of CMS Danskin's SuperPhon panels, designed to represent two trees.
The Challenge
The original building was constructed in 1997 and incorporated some sound absorbent materials; the refurbishment had to inject new life into the interior whilst also enhancing the library's acoustic performance. The open-plan layout, which can have up to 450 students using it at any one time, presented a particular challenge for controlling the build-up and spread of sound.
Class A absorbent rafts and baffles were recommended by Apex Acoustics to act as noise barriers as well as provide sound absorption, and control the spread of sound throughout the space. The space was zoned for noisier and quieter activities and acoustic consultants Apex Acoustics undertook full modelling to determine the optimum arrangement of rafts and baffles.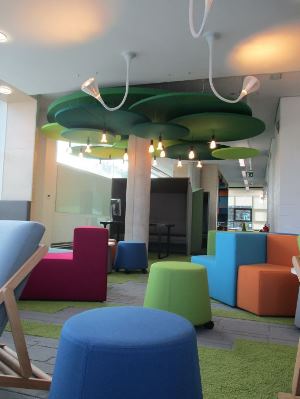 The Solution
 CPMG Architects, who were tasked with the refurbishment, worked to integrate the recommended Class A absorbent rafts into the library's interior scheme, which used a contemporary palette of materials and a focused colour strategy. Two identical 'trees' were created at either side of the library's first floor, using CMS Danskin's SuperPhon Acoustic panels to represent the foliage.
Circular panels of varying sizes and different shades of green were suspended from the ceiling and arranged around two structural concrete columns, to look like abstract trees. The panels were bespoke and CPMG Architects was able to specify the material used to cover them, and the colours. Some of the panels had to be made and supplied in two halves, and constructed on-site, due to their size.  The 'trees' also had contemporary lights suspended from the panels, to represent hanging fruit.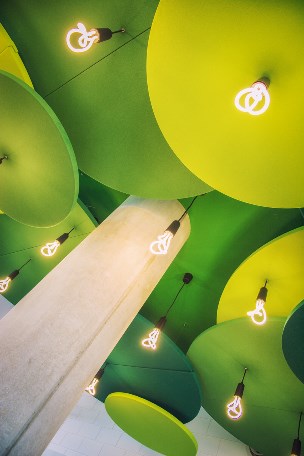 The Results
The two sound-absorbing 'trees' represent a visually striking and unique use of CMS Danskin's SuperPhon panels.
Richard Thorpe of CPMG Architects said: "We went for the SuperPhon panels because of what we could do with them – the bespoke service gave us scope to play around with the design and come up with something quirky and interesting. We were able to create an attractive design feature which had a very practical purpose – to reduce reverberation in the refurbished library."
The project was completed at the end of September 2016 and the refurbished floor is now open to students.
All images copyright Kier Construction Ltd.