Versafloor Acoustic Flooring System

Euroform is one of our close partners as part of the SIG Performance Technology division.
Versafloor is their acoustic flooring system that incorporates Regupol components. Click here to read about Versafloor on the Euroform website.
The combination of cement and wood produces a material which is an ideal solution for high performance flooring using traditional and new construction techniques. Euroform's Versapanel is currently being used worldwide in a number of different flooring applications, on its own or as part of the Versafloor system, depending upon relevant project criteria, such as fire resistance, acoustic performance, resistance to moisture, strengthening of construction or eliminating wet trades.
The High Performance and Adaptable Flooring Material
Versapanel® can be machined to create a fielded effect or have mouldings in hard or soft wood applied to the surface.
Versapanel® systems are used where there is a requirement for a high performance against any of the following criteria: fire/moisture/humidity/acoustics/impact.
Versapanel® is also available in standard sizes of 600 x 600mm or 1200 x 600mm. Available with square edge (for lay in grid system) or bevelled edge (for face fixing) they offer a class 'O' fire resistance with a class '1' spread of flame to BS476 Part 7. The density of Versapanel® offers excellent airborne sound reduction (31dB for a single tile of 10mm).
The construction industry now requires as many components as possible to be supplied in a finished form minimising any further work on site. This particularly applies to the Modular and Volumetric construction industry where modules are of a repetitive sizing for such constructions as prisons, hospitals, restaurants, petrol stations and hotels.
The Versafloor System has been specially developed for this market. Versafloor is manufactured using Versapanel CP board, which is a high performance material having properties of fire resistance, moisture resistance and with high acoustic performance.
Versapanel® is normally cut into panel sizes that can be handled easily eg: 1220 x 610mm, the inherent properties of cement bonded particle board ensures the finished floor has the following properties:
Fire Resistance
Acoustic Performance
Rot Proof
Non Toxic
Resistance to Compression
Resistance to Fungus & Mould Growth
Containing No Fibres or Hazardous Volatiles
Can Be Machined to Precise Measurements
Versapanel® can be laid in either sheets or tongue and groove panels onto a variety of existing and new floor constructions to either provide a new floor or to upgrade the performance of an existing floor. Versapanel® can be used to replace floorboards or chipboard based systems to enable a higher performance specification to be achieved with the added advantage of Versapanels® long term maintenance free characteristics.
Timber joists with tongue & groove floorboards or close butted floorboards are the most common and oldest method of constructing a floor. After years of wear the working surface becomes worn and also has a tendency to distort.
A simple but effective solution to this problem is the use of Versapanel® tongue and groove flooring panels.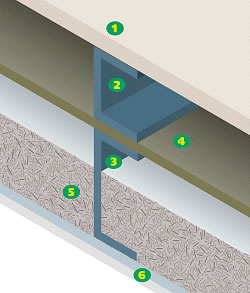 Versapanel 22mm tongue & groove panel.
ASF Steel Ceiling Joists.
ASF Steel Floor Joists.
Module intermediate layer 11mm OSB.
Ceiling Joist Cavity:100mm Mineral Fibre (23kg/m3).
12.5mm Lafarge standard wallboard followed by 12.5mm Lafarge firecheck wallboard.
Approximate Acoustic Performance
Airbourne: 57dB.
Impact: 50dB.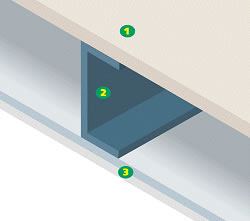 Versafloor 22mm tongue & groove panel.
ASF Steel Joists.
12.5mm Lafarge standard wallboard followed by 12.5mm Lafarge firecheck wallboard.
Acoustic Performance
Airbourne: 48dB.
Impact: 69dB.
To download a copy of the Versafloor Technical Manual, click here.