SuperPhon High Impact Grid System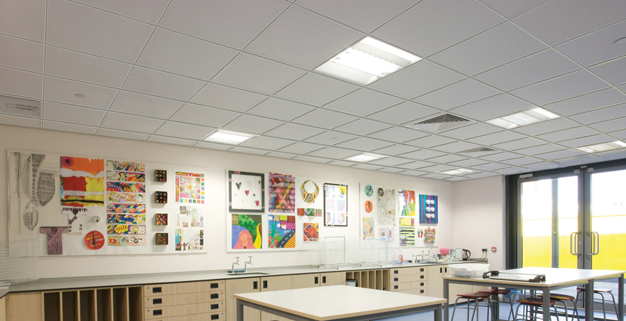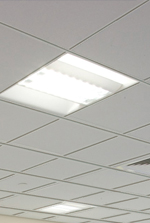 SuperPhon Ceilings – High Impact Grid
SuperPhon High Impact Grid is a Class 'A' sound absorption lining ideal for ceilings where there is risk of impact, such as sports halls, or a risk of undesirable removal in applications such as prisons, mental health institutions, public areas, etc.
The CMS Danskin SuperPhon High impact Grid Panels have been specifically developed to provide an attractive reverberation control solution for areas of high traffic or where high levels of surface impact is expected. These highly robust panels are manufactured to bespoke order and finished with acoustic woven fabric to deliver an aesthetic finish in a wide range of colour options.
CMS Danskin SuperPhon High Impact Grid system has been developed to support the SuperPhon High Impact Grid Panels either direct to the structural soffit or onto a suitable boarded MF grid arrangement if a void or lower ceiling level is required. The grid is manufactured from steel sections that are white as standard but can be colour coded to any RAL colour subject to a surcharge.
Benefits
Provides up to Class 'A' acoustic absorption
Various colours available
Wipe clean finish available
Bespoke manufacture
FREE reverberation calculation service is available
Acoustic panel installation service can be provided through approved contractors
Full technical and on-site support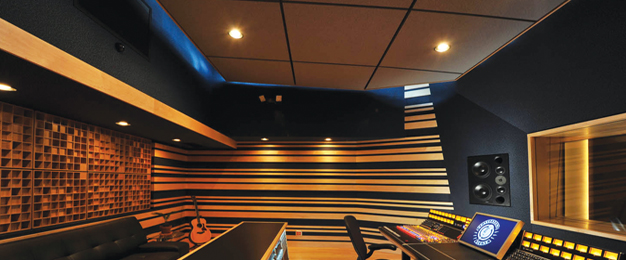 Applications
Sports halls
Public areas
Gymnasiums
Prisons
Mental health institutions
ASchools
SuperPhon Technical Specification
SuperPhon High Impact Grid Panels
SuperPhon High Impact Grid Panels conform to the following specifications:
- Panel core in non-combustible
- Standard Fabric covering complies with BS 476 1987 Part 7 Class 1 surace spread of flame
- When wrapped in specially treated CMS fabric, Superphon panels comply with fire tests BS476: Part 6 & 7
to give UK Building Regulations Class '0' and comply with BS EN 1021-1 2006 (cigarette)
The noise absorption coefficient is expressed as a factor betwenn 0 and 1.0. The more sound that a material absorbs, the higher the noise absorption coefficient.
Hz

125

250

500

1000

2000

4000

NCR

Absorption Class

SuperPhon High Impact

0.3

0.85

1.00

1.00

1.00

1.00

1.05

A
IMPORTANT:
Directions for use are given for guidance only and are not intended to form part of any contract. They should be varied or adapted to suit your particular materials or conditions of use. Goods supplied by the company are made to approved standards from the highest quality raw materials but no warranty or guarantee is given as to their suitability for any particular purpose or application and no liability is accepted for any loss or damage arising directly or indirecty from the use of the Company's products irrespective of any information given to us as to intended use of such products. It is therefore recommended that prospective users should test a sample of this product under their own conditions to satisfy themselves that the product is suitable for the purpose intended.
The information provided here is, to the best of our knowledge, accurate at the time of going to press. However, due to CMS Danskin's commitment to a policy of continuous development, we reserve the right to make changes when necessary and without prior notification. We can't accept responsibility for products that are not installed or used in accordance with our specifications and instructions.
SuperPhon High Impact Grid System Installation
Install the perimeter trim using appropriate fixing configuration to suit the background. Bottom edge of the perimeter trim should be located so the SuperPhon High Impact Grid Panels can be positioned on top of the leg so a comfortable fit of the panel and the structural soffit is achieved. Ensure the perimeter trim is level.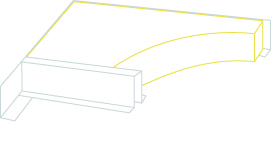 Shorter cross channels are to be cut from the longer main channels and are also located on top of the perimeter trim leg and the main channels or spanning main channel to main channel again trapping the SuperPhon High Impact Grid Panels in position.
Once positioned, drill through the SuperPhon Grid System in the recess and through into the substrate behind. Suitable fixing should be located at 300mm centres in long channels and a minimum of two fixings per 600mm along short cross channels.
SuperPhon High Impact Grid Panels can be cut on site if required using a utility knife or serrated blade. The fabric facing can be cut with scissors once the acoustic core has been cut and removed.
Install the channel support lapped on the perimeter trim and trapping the SuperPhon High Impact Grid Panels in place.
Click the Installation Guide  to download: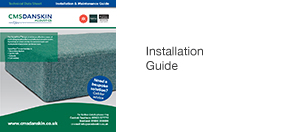 Refurbishment & Noisy Neighbours