Class O Foil Face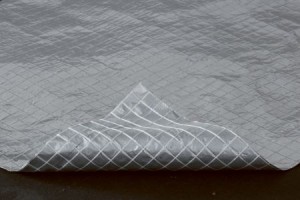 CMS Danskin Acoustics Class O Foil face (COFF) is a 3 layer laminate facing and vapour barrier for lamination to insulation and acoustic materials.
Applications
For mineral wool rock wool and glass wool in forms of felts lamella mats plain slabs. For air conditioning duct insulation and building insulation rolls. For preformed pipe sections. Also suitable for facings to RIGIDPolyurethane Polyisocyanurate Phenolic Foam expanded Polyethylene Foams used for building
insulation and for use as facing to "Ceiling Boards".
Extensively used for "Duct-Slabs" in air conditioning application.
Benefits
Standard face for the CMS Danskin Acoustics range of duct lagging materials.
Tough and resistant to tearing cracking and abrasions.
Matching sealing tape for edges and seams.
Prevents fibre breakout from glass and mineral fibre insulation materials.
Class 0 flammability rated.
Resistant to water vapour.
Refurbishment & Noisy Neighbours