Acoustic Enclosure Panels
Expertise in Industrial Acoustic Enclosure Panels
When noise from industrial machinery exceeds statutory minimums of the Noise at Work Regulations, employees operating within the vicinity of the piece of equipment in question are at genuine risk of ill health, including impaired hearing and stress. Acoustic enclosure panels offer the ideal solution.
Acoustic enclosure panels (and, in particular, the ISO Acoustic Enclosure Panel System from CMS Danskin) present a soundproofing solution that is both flexible and effective. Self-supporting and easy to install and adapt, acoustic enclosure panels can be used indoors or out to contain the intrusive noise generated by machinery in factories, on oil rigs, in print works or just about anywhere.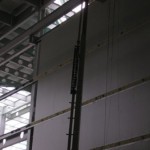 ISO Acoustic Enclosure Panels
Acoustic Enclosure Panels: a Host of Applications
As well as containing noisy machinery, such as generators or air compressors, acoustic enclosure panels can be used to create soundproofed spaces within otherwise noisy environments, for offices, meeting rooms or control centres. Plus, acoustic enclosure panels also offer a significant degree of fire resistance.
For free technical advice, an onsite visit and acoustic calculations, call us now. Our friendly and helpful team is waiting for your call.
Download our Industrial Acoustics brochure: