Fire Retardant Acoustic Foam Type FR25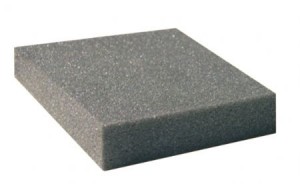 CMS FR25 acoustic foam is a fire retardant polyether based polyurethane foam designed to provide acoustic and fire resistant properties. It is grey in colour and flexible to use and handle.
Applications
CMS FR25 acoustic foam is typically used for machinery enclosures doors walls partitions and air conditioning ducts. It is also ideal for insulating cabs of industrial vehicles and enclosures for vehicle and
boat engines. For wall and machinery enclosures
the acoustic performance of CMS FR25 can be
dramatically enhanced when used in combination with
DS damping sheet. FR25 is a non-dusting and flexible
acoustic foam that provides excellent sound absorption.
Benefits
Available in sheet form.
Flexible and easily cut.
Easy to handle and install.
Suitable for curved surfaces or complex shapes.
Available with a self-adhesive backing.
Available with various backings including self – adhesive backing.
Click the datasheet to download: