Vertiface Sound Absorption Panels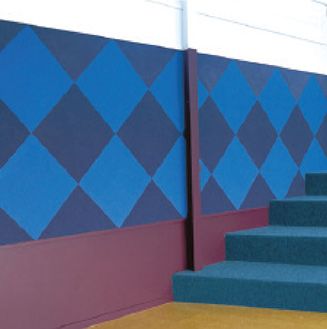 Vertiface sound absorption panels reduce noise through an aesthetic interior wall covering.
CMS Danskin Acoustics offer two varieties of Vertiface Type 'A' and Type 'R'. Although they have much in common there are differences relating to available colourways tile size available thicknesses roll width and Noise Reduction Coefficient. Where there are differences they are highlighted on this website. There are also separate datasheets for each type.
Vertiface sound absorption panels offer a high performance acoustic solution for finished interiors. Designed to offer a simple solution to noise challenges in a variety of settings these attractive sound absorption panels make creating a quieter and more peaceful environment quicker and easier than you think.
Adhering directly onto interior walls Vertiface sound absorption panels are made from a high density polyester material that helps improve listening conditions by absorbing sound produced within a room and reducing the transmission of noise from outside. This is particularly important in environments such as classrooms where noise levels act as a barrier to learning.
For professional durable finish to your Vertiface sound absorption panels a range of plastic extrusions for edges joins and internal and external corners is also available.
Benefits
Excellent acoustic absorption
Safe non-toxic non-irritant recyclable and environmentally friendly
Pin staple and 'hook and loop' receptive
Resistant to staining
Resistant to fading
Will not absorb moisture
Range of extrusions for fast installation and neat attractive finish
[tab2] Vertiface sound absorption panels are especially well suited to the education sector, commercial offices, theatres, libraries, retail, restaurants, residential applications including children's bedrooms, stairwells and corridors. It is used anywhere that reverberated noise is a problem.
There are different colours availalbe for Vertiface Type 'A' and Vertifiace Type 'R'.



Note: the above colours should be used as a guide only. We will supply a detailed colour swatch and product samples on request. Other colours are available on special order, please contact us for details.[/tab2]