SuperPhon Acoustic Wall Panels
Watch our video (below) to see how SuperPhon acoustic wall panels are hand-finished and installed.
SuperPhon Acoustic Wall Panels
SuperPhon™ acoustic wall panels for wall soundproofing are a composite construction and offer a fabric-covered solution for reducing sound reverberation.
SuperPhon™ acoustic wall panels deliver highly effective wall soundproofing and reverberation control in schools studios auditoria cinemas and offices. These acoustic panels are also available for industrial application such as engine enclosures test cells and workshops with a separate industrial finish available.
The SuperPhon™ range of acoustic wall panels is available in standard sizes and thicknesses and bespoke panels and absorbers of a specific size thickness shape or fabric facing can be readily manufactured.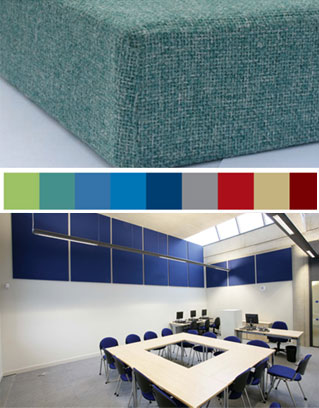 As well as the broad offering of standard fabric colours these acoustic panels can be colour matched to any chosen fabric.
The SuperPhon™ Range of acoustic wall panels includes:
SuperPhon™ Acoustic Wall Panel System
SuperPhon™ Baffles
SuperPhon™ High Impact
SuperPhon™ Window Reveal Liners
SuperPhon™ Suspended Absorber
Benefits
Provides up to Class A Soundproofing Performance
88 fabric colours available over two ranges (see palette below)

Wipe clean finish available
Bespoke manufacture
Complete range of fixing systems
FREE reverberation calculation service available
Acoustic panel installation service can be provided through approved contractors
Full technical and on-site support
SuperPhon Acoustic Wall Panels Colour Palette

With a flexible design and installation process, the SuperPhon™ range of acoustic wall panels is suitable for a variety of applications where reverberation times and reflected sound needs to be addressed.
Suitable applications for wall mounted SuperPhon™ Wall System and Sound Absorption Panels include:

Recording studios

Audiology rooms

Commercial premises

Schools

Reception Areas

Cinemas & threatres

Call centres and conference rooms

Gymnasiums, Sports halls

Offices

Public entertainment facilities

Click on the image below to download our latest SuperPhon brochure: