SuperPhon Acoustic Cubes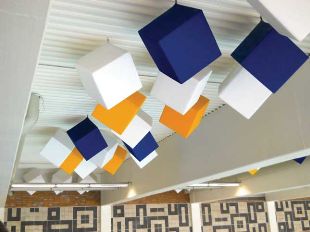 SuperPhon ceiling suspended acoustic cubes provide a highly adaptable fire resistant and absorptive solution for controlling the reverberation of sound in large rooms.
Offering excellent broadband sound absorption these lightweight ceiling suspended acoustic cubes are easily installed between existing services using a simple hook suspension. Available in a wide choice of colours striking suspended designs can be created by specifying various patterns and sizes.
Consisting of a formaldehyde-melamine-sodium bisulfite copolymer, melamine foam has an excellent track record, having been employed for more than two decades as an insulation material for pipes and ductwork. It has an equally impressive pedigree as a soundproofing material for a wide variety of applications, including studios, sound stages, and auditoria.
The melamine foam used in SuperPhon acoustic cubes is an open cell fire resistant acoustic foam designed to meet the stringent requirements of British Building Regulations.
Benefits
Reduces reverberation times to improve the listening environment
Can assist with BB93 compliance
Perfect for classrooms – functional yet attractive
Excellent broadband sound absorption
Fibre free
Lightweight at less than 3kg (600mm cube)
Easily installed between existing services
Bespoke shape manufacture available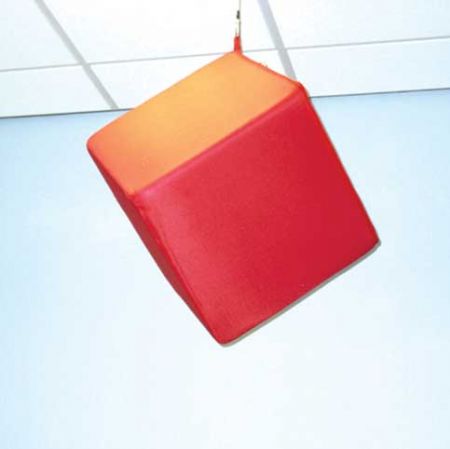 SuperPhon Acoustic Cubes are ideal for large rooms where the ceiling height is generally above 3m, including; production halls, gymnasia, event centres, sports halls  and atriums.