High Impact Acoustic Mat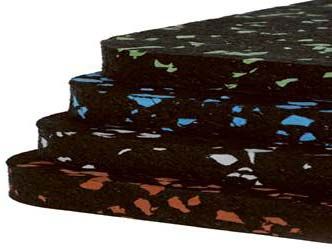 CMS Danskin Acoustics High Impact Mat is a leading commercial and industrial acoustic mat capable of standing the test of time even in arduous conditions. Elastic yet dense it is ideal for areas subject to heavy footfall or mechanical traffic.
Manufactured from a non-reflective and slip-resistant material which exceeds the highest safety standards CMS Danskin Acoustics' High Impact acoustic mat combines the durability required for industrial applications with the aesthetic finish desired for commercial installations. It offers a non-slip elastic alternative to traditional floor coverings which can not only resist wear and tear from forklift trucks or trolleys but also provides a pleasant anti-fatigue walking surface for foot traffic.
CMS Danskin Acoustics High Impact acoustic mat has excellent acoustic properties greatly reducing the impact of noise while providing an aesthetically pleasing floor surface for outdoor and indoor applications.
Benefits
Excellent impact reduction 
Very hard wearing robust floor finish
Anti-slip even under wet conditions
Anti-fatigue properties
Simple to install
Warm under foot 100% water resistant
Porous surface for quick drying
Fully recyclable
Composed of reclaimed rubber EPDM granulate and PUR binder H linoleum High Impact Acoustic Mat is an environmentally friendly alternative to  traditional PVC carpet or rubber flooring and outclasses them in performance. It can be supplied in rolls or sheets in an extensive range of colours and finishes bespoke colours available on request.
Technical Information

Density

ΔLw

Tensile Strength
(DIN 53571/B)

Elongation at Break
(DIN 53571/B)

Tear Resistance
(DIN 53515)

980kg/m3

18db*

2.35N/mm2

Approx. 135%

16.5N/mm

Temperature
Resistance

Co efficient
of Friction**

Slip
Resistance***


Fire Testing: When tested
according to Method 1

-40°C to +115°C

1.20 Dry and
1.20 Wet

Low Slip
Potential

Loose Laid of BS 4790, has a low
radius of effects of ignition (up to 35mm)

*(Tested in Accordance with BS EN ISO 140-8:1998) **(According to ASTM D2047-82)
***(Tested in Accordance with BS7976)
Impact Noise Test Performance
CMS High Impact Acoustic Mat is a high performance material that has been tested by National Design Consultancy (Test report reference 80050 dated 3/3/1999) with the following test results:
Physical Information

Material composition

Roll Width

Roll Length

Sheet Dimensions

Reclaimed rubber, EPDM granulate and PUR binder

1250mm

10m minimum

1250mm x 1250mm. Other dimensions available upon request

Thickness

Colours

Installation

4, 6, 8, 10 and 12mm

Please contact CMS Acoustic Solutions for full colour range

Permanently bonded or taped along the seams, subject to site conditions and thickness
CMS High Impact acoustic mat is available in rolls and sheets to provide a seamless floor covering and as tiles. The material, which can be easily cut, is simple to install and ready for traffic just 24 hours after installation. Full and detailed installation guidelines are available on request.

Applications
Loading bays
Storage facilities
Waste skip areas
Communal areas
Balconies
Internal and external walkways
Machine workshops
Factory floors
Cellars
Commercial floors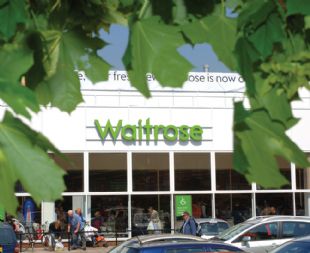 Some examples of where CMS Danskin High Impact acoustic mat has been used
The High Impact acoustic mat was used at the Balham branch of Waitrose to directly attenuate sound and withstand the impact of the delivery cages– metal cages used to carry stock generated high levels of noise when rolling across the uneven concrete floor, causing disturbance to residence.
CMS High Impact acoustic mat was installed in the Royal Shakespeare Theatres gantry to reduce unwanted noise generated by the movement of lighting and scenery during theatre performances.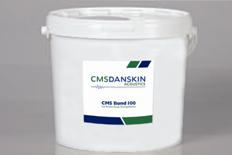 CMS Bond 100 High Performance Acoustic Sealant
CMS Bond 100 is a solvent free low VOC high performance water
based acrylic dispersion with very good bond strength. It is suitable for plasticized vinyl floor coverings (including PVC tiles) together with high density foam backed carpets.
Guarantee
CMS Bond 100 is distributed in the UK by CMS Danskin Acoustics. The adhesive manufacturer will guarantee the performance and quality of products against manufacturing defects provided they are used in accordance with our relevant Technical Data Sheets at the time of installation and the appropriate sub floor preparation has been undertaken in accordance with the relevant British Standards.
Floor covering manufacturers are constantly introducing new backings and improving their current products. Certain backings may have unique characteristics which may influence the choice of adhesive used. Whilst every effort has been made to ensure the information is correct at the time of publication it is the responsibility of the user to ensure that the product is suitable for the particular installation.
If there is any doubt as to the use of our adhesives the installer should contact CMS Danskin Acoustics for advice or carry out their own tests to ensure compatibility.
Important steps before you lay CMS Bond 100 – Surface Preparation
Suitable sub-flooring substrates include concrete, flooring grade hardboard, plywood, chipboard, sand/cement screed, proprietary good quality self-smoothing underlayments. Asphalt and surface membranes should be treated with at least a 3mm coating of the latter before applying the adhesive.
Site conditions should comply with the latest British Standards editions: BS 8102 (Code of Practice for protection against moisture from the ground), BS 8203 (Code of Practice for installation of resilient floor coverings), BS 5325 (Code of Practice for installation of textile floor coverings), BS 8204 part 1 (Code of Practice for installation of self levelling screeding compounds), and supplementary specifications.
Surfaces must be level, firm and clean, free of loose material, mould, oil, grease, organic growth and surface moisture (under 75% RH).
Uneven, dusty or friable surfaces should be treated with the appropriate universal primer and screed.*
It is essential that suitable damp proof membranes be in place to prevent rising damp.*
Under floor heating should be turned off for at least 48 hours prior to and after application.
Particular attention must be paid to the floor covering manufacturer's instructions. i.e. any pre storage conditions prior to fitting.
*Please contact CMS Danskin for further information.
Installation
Mixing:CMS Bond 100 is a ready to use versatile product and should not be diluted or adulterated in any way.
Application:
Use a notched trowel of dimensions 1.5mm x 5mm or as CFA guidelines.
Heavy textured floor coverings may require a larger towel.
Apply adhesive evenly to the substrate and depending on the substrates lay the floor covering while still wet. It is best to allow the freshly applied adhesive to stand for 15-45 minutes depending on the ambient conditions, to build tack before embedding the floor covering.
Press firmly into place and rill using a 60/70Kg roller or glider depending on material used. Roll again approximately 1 hour after application.
Wait at least 24 hours before welding vinyl seams.
Removal of adhesive from tools:
Clean tools with water if adhesive is still wet or use white spirits if it has dried.
Product Specification
Colour
Off White
Consistency
Trowelable Mastic
Open Time
15 minutes plus depending on site conditions: Temp, humid & surfaces to be treated
Specific Gravity
1.2
Shelf Life
12 months if stored between 5-30°C in a dry area, in original unopened containers.
Protect from frost.
Product Technical Information
Curing
High humidity, a low temperature and poor ventilation will retard the drying speed
Coverage
3m2/kg depending on the porosity of the substrate and thickness of the adhesive film.
For the latest technical data sheets and installation guidelines, please call 01925 577711. Thank you.