SoundDeck Extra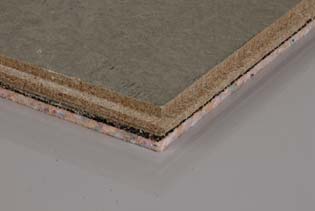 SoundDeck Extra® is a resilient structural acoustic flooring system which can be applied straight to timber joists.
Applying SoundDeck Extra straight to timber joists enhances the acoustic performance of the system and levels uneven joists reducing the potential for resonance and squeaking problems once the floor is in use. Acoustic performance can be further enhanced with the installation of 6mm Regupol® isolating strips prior to the installation of SoundDeck Extra.
Benefits 
Specifically designed for refurbishment of timber floors
Approved as Doc E compliant for conversion and new build standards
Minimises construction height
Good low frequency sound insulation enhancement
Cost effective solution for timber constructions
Also ideal for precast and beam and block floors
Ideal for refurbishments
Application Specifics

Accessories

SoundDeck Extra must be used with the SoundDeck
Flanking Band to ensure efficient operation

Size

2400mm x 600mm TG4

Overall Thickness

30mm & 34mm
When Installing SoundDeck Extra® Soundproof Floor Boards, the following procedure should be carried out:
Ensure that floors are level and clean with no protruding nail/screw heads in floor
Fill all voids between walls and floor
Butt boards tightly together
Joints should be bonded using CMS SoundDeck adhesive (nails/screws should never be used)
Install SoundDeck Flanking Band around the perimeter of the floor to isolate flooring boards from walls and skirtings.
| | |
| --- | --- |
| Airborne sound insulation (DnT,w + Ctr) | Impact sound insulation (L'nT,w (Ctr)) |
| 49dB | 55dB |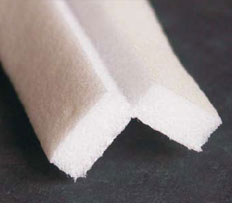 CMS Danskin Acoustics Flanking Band is a cross-linked closed cell polyolefin foam strip which is designed to reduce the transmission of flanking sound around the perimeter of acoustically isolated floor systems. It is pre-scored on one side for ease of application comes in a variety of widths and is available with or without self-adhesive backing. Custom sizes are available to special order.
Benefits
Reduce both airborne and impact noise.
Isolates acoustic flooring system from adjacent structures.
Suitable for use in both commercial and residential applications efficiently limiting the passage of flanking noise through the floor and walls.
Pre-scored on one side for ease of application.
Available in standard and customer widths.
Flexible and easy to cut.
Simple to install.
Cost effective.
Product Specification

Total Width

Score Position

Length

40mm

20mm

20mm

10mm

75mm

25mm

50mm

10mm

100mm

25mm

75mm

10mm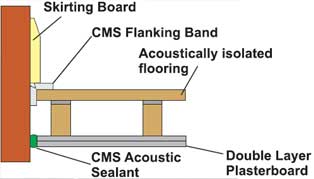 Installing the Acoustic Flanking Band
The CMS Flanking Band is applied around the perimeter of acoustic flooring systems to reduce airborne and impact noise and is suitable for use in both commercial and residential applications, efficiently limiting the passage of flanking noise through the floor.
The CMS Acoustic Flanking Band is ideal for new, retrofit or renovation projects in offices, homes and hotel applications as it is so easy to fit and can be used with acoustic battens, acoustic cradles and acoustic decking.
Flanking band isolates the flooring system from adjacent structures. The band is trapped against the wall and returned down over the flooring. The skirting board is then fixed to the wall securing the flanking strip between the skirting board and the SoundDeck. After the skirting board is installed, simply trim the flanking strip flush with a sharp trimming knife.

For the latest technical data sheets and installation guidelines, please call 01925 577711. Thank you.