Reflex Bearer – Acoustic Batten for Soundproofing Timber Floors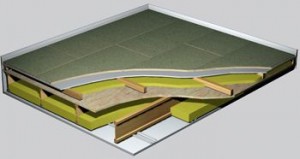 An extensive process of research and development over many years enabled CMS Danskin Acoustics to produce an innovative flooring bearer with an exceptional level of acoustic performance. Reflex Bearer Acoustic Battens comprise softwood timber with  a unique double density resilient fibre layer which provides a high degree of impact sound reduction.
Reflex Bearer Acoustic Battens contribute significantly to the reduction of impact and airborne sound on level timber or lightweight steel constructions and on concrete subfloors in new build and refurbishment
applications. The softwood timber has either PEFC accreditation as standard or FSC on request.
Advantages
Approved FFT1 and FFT3 bearer in many Robust Detail constructions.
Approved for new Scottish Example Constructions
Exceptional impact sound reduction in party floors
Can eliminate wet trades
Provides void for services and underfloor heating
Proven durability of resilient polymer based fibre layer
Proven acoustic performance
PEFC or FSC accreditation
GWP of resilient layer is 0.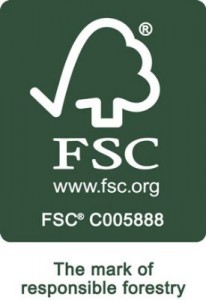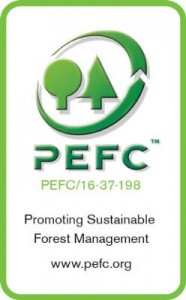 Applications
Most timber, steel and concrete separating floors
Robust Detail Separating Floors E-FC-1, E-FC-2, E-FC-7,
E-FS-1, E-FT-1, E-FT-2, E-FT-3, E-FS-2
Section 5 Example Constructions 1B, 2B, 3A and 3B
Reflex Bearer Acoustic Battens

Reflex Bearer Acoustic Battens comprise softwood battens 45mm ( Nom.) wide by 2400mm long with a specially developed resilient fibre strip 17mm thick adhered to the underside. They can be preservative treated if required. On average it is expected that the resilient layer will compress by around 4mm under normal loading.
Standard Heights ( unloaded ) : 53mm , 62mm and 78mm ( Nom.)
Other sizes are available to order. Timber is PEFC certified as standard.
For FFT1 requirements use a 78mm Reflex Bearer Acoustic Battens.
For FFT3 requirements use a 53mm Reflex Bearer Acoustic Battens or higher.
Performance
Laboratory values for Reflex Bearer Acoustic Battens are shown below.
Please request CMS Danskin Performance Data sheets for test information on the Reflex Bearer Acoustic Battens with different structural floor and ceiling combinations.

High Load Bearers

It is an essential feature of effective floating floors that they deflect vertically in order to absorb impact energy and therefore reduce sound transmission. However effective deflection under areas of high load such as kitchen and bathroom furniture is not desirable. While this can sometimes be lessened by reducing batten centres or using double rows of Reflex Bearer Acoustic Battens, limited numbers of high density foam battens can sometimes be used in these local areas. On concrete subfloors High Load Bearers are also recommended for use at room perimeters. As High Load Bearers have a lesser acoustic performance than Reflex Bearer Acoustic Battens a warning message regarding excessive use is printed on the top surface.  High Load Bearers are manufactured to a similar height as compressed Reflex Bearer Acoustic Battens ( ie, Reflex height less 4mm ) and provide superior support.
Danskin Flanking Strip
This is placed at the perimeter of each floor . The 6mm thick preformed "L" shaped acoustic foam is supplied in strips 1.8m long and packed in bags of 100 lineal metres.The innovative "L" shape makes the flanking strip easy to fit and one size fits all floors. It is lightly trapped between the bottom of the skirting and the top of the flooring board with the excess neatly trimmed off.
Danskin Acoustic Quilt ( as required )
Where required to achieve a particular acoustic performance CMS Danskin can supply acoustic quilt.
Thickness : 25mm
Density : 19 kg/m2
Roll size : 22.5 metres long x 1.2 metres wide.
Chipboard Flooring
18mm or 22mm thick P5 T&G chipboard flooring with optional protective or decorative layers.
Sheet size : 2400 x 600
Danskin D3 Adhesive
Danskin D3 adhesive is a high quality resin based wood adhesive which provides a high strength impact resistant bond. It conforms to the international standard EN 204 (D3) and BS 4071 for creep resistance.It is supplied in 1 litre bottles.
For the latest technical data sheets and installation guidelines, please call 01698 356000. Thank you.